Irresistible Air Fryer Meatballs
These Irresistible Air Fryer Meatballs will have your mouth watering and your family begging for more! Ready in about 30 minutes, it's an easy weeknight meal.
When I discovered that I could use my air fryer to make one of my favorite dishes in under an hour I was in heaven. Evening meals can sometimes be dreadful – you're tired from work, the kids are hangry and you need to put food on the table FAST. These meatballs are an easy solution.
You can serve them as the main course or use them for spaghetti and meatballs or meatball subs. They also make a tasty appetizer.
Most people make their meatballs from all beef, but I like to add sausage for an extra boost of flavor. Even if you aren't a fan of sausage give it a try. It takes an ordinary meatball to the next level.
If you are wondering what's so great about using the air fryer, it makes eating healthier and preparing home-cooked meals so much easier. Air fryers cook by convection so cooking times are greatly reduced. If that wasn't awesome enough, you can get crispy results by just spritzing a little oil. No need to saturate the food in oil = healthier food.
Another reason I love making meatballs in the air fryer is that it's less messy, making cleanup easier.
My Favorite Air Fryer Accessories:
My must-have accessories (affiliate links):
Parchment Paper Liners – These make cleanup a breeze and helps to keep foods from sticking to the fryer basket.
Silicone coated tongs – I recommend these so you don't damage or scratch the surface of your basket.
Pans – Did you know you can bake and make bread in your air fryer? When shopping for loaf pans be sure to buy one that fits your air fryer.
Muffins Liners – Yep, you can make muffins too! I recommend this set of muffin liners!
Meat Baller– Okay, so this isn't just for air frying, but it's really handy when making these meatballs. You can also use a cookie scoop.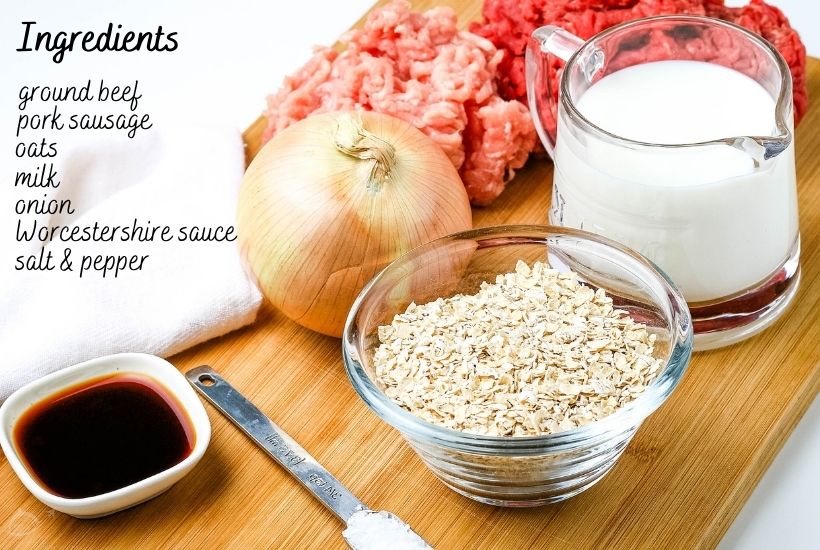 Ingredients for Air Fryer Meatballs
Ground Beef
Pork Sausage
quick-cooking oats
milk
onions
Worcestershire sauce
Salt and pepper
Can I substitute the Sausage for Something Else?
Yes! You can swap out the pork sausage for an equal amount of ground turkey or ground beef.
I use the Cosori air fryer, and it has been great if you are shopping for a new model or want to upgrade.
Are the Meatballs Good For Freezing?
Air fryer meatballs are a great option for meal prepping or cutting down preparation time for the next meal when you make them in advance. There are 2 options for freezing:
Uncooked meatballs: combine all of the ingredients. Shape the meatballs and flash freeze (keep reading for more info on flash freezing). Store the frozen meatballs in a plastic freezer bag (I use my Foodsaver to keep freezer burn at bay). To prepare, thaw meatballs overnight in the refrigerator then follow the standard cooking instructions. If you cook frozen meatballs, allow for additional cooking time.
Cooked meatballs: my favorite meal prepping method! And it helps get dinner on the table FAST! Follow the directions as listed in the recipe card. Flash freeze the cooked meatballs and store in the freezer. To use, preheat the air fryer to 350 degrees. Cook for 8-12 minutes until heated through, shaking at the halfway point.
Whichever option you use, it's best to store them in a single layer or place a piece of parchment paper between double layers. For best results, store up to 1-2 months in the freezer.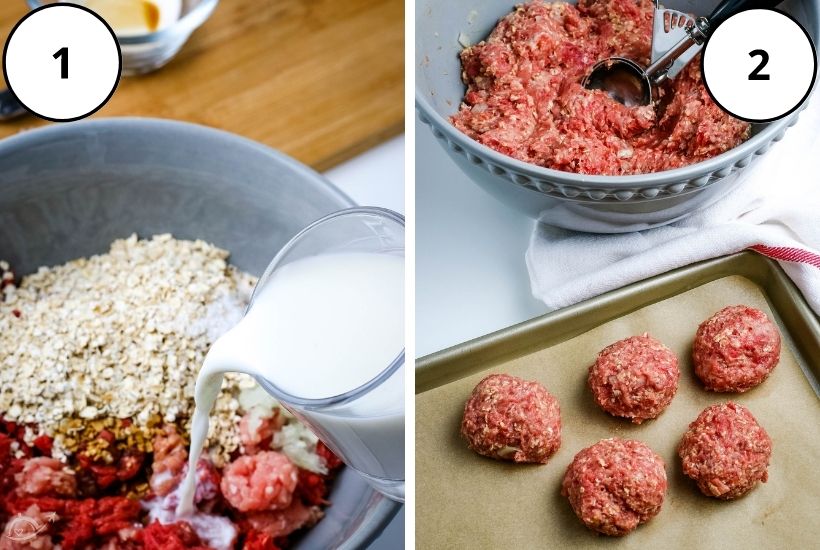 How to Make Meatballs
Step 1 – mix all ingredients until just combined. Don't overwork the mixture or your meatballs will be tough. Set aside to rest for 10 minutes.
Step 2 – shape into 1- or 2-inch meatballs, using a scoop or meatballer. If you have an aversion to touching raw meat (me, too), use these gloves when working with the raw meat.
Step 3 – cook meatballs for 10-15 minutes.
Why You Should Flash Freeze
Flash freezing is the process of partially freezing foods rather than putting them in the freezer at room temperature. This helps the food keep it's shape rather than mushing together into an unruly lump of goo.
It also keeps your food fresher until you're ready to cook. Flash freezing keeps ice crystals from forming on the food.
To flash freeze, simply lay out your meatballs on a lined pan or cookie sheet. Place the pan in the freezer for about 20 minutes, or until the meatballs are firm to the touch. They are now ready to store in the freezer.
How To Serve
This recipe is so versatile when it comes to serving. Here are a few of our favorite ways to serve:
As an appetizer with your favorite dipping sauce
In a pita pocket
An open-faced sandwich with marinara sauce
Topped with gravy
Served with mashed potatoes, white rice or cauliflower rice
Irresistible Air Fryer Meatballs
These Irresistible Air Fryer Meatballs will have your mouth watering and your family begging for more! Ready in about 30 minutes, it's an easy weeknight meal.
Print
Pin
Rate
Servings: 6
Calories: 297kcal
INGREDIENTS
1 pound Ground Beef
½ pound Pork Sausage
¾ cup quick-cooking oats
1 cup milk
3 tablespoons onions finely chopped
1 tablespoon Worcestershire sauce
¾ teaspoon salt
¼ teaspoon pepper
INSTRUCTIONS
Mix all ingredients together just until well combined. Let rest for 10 minutes.

Roll 1-inch or 2-inch sized meatballs.

Preheat the air fryer to 350 degrees.

Place meatballs in a single layer in the air fryer, making sure the meatballs don't touch. You may need to cook in batches.

Cook meatballs at 350 degrees for about 10 minutes for 1-inch meatballs and 15 minutes for 2-inch meatballs. Shake basket every 5 minutes for even cooking. Cooking times may vary – I recommend checking at 8 and 12 minutes respectively.
NOTES
Don't overwork the meat mixture or your meatballs will be tough.
Cooked meatballs will keep in the freezer for 1-2 months.
Because every air fryer is different, we recommend checking your food at the halfway point and adjusting the cooking time if necessary.
NUTRITION
Calories: 297kcal | Carbohydrates: 6g | Protein: 23g | Fat: 19g | Saturated Fat: 7g | Trans Fat: 1g | Cholesterol: 80mg | Sodium: 641mg | Potassium: 439mg | Fiber: 1g | Sugar: 3g | Vitamin A: 223IU | Vitamin C: 1mg | Calcium: 86mg | Iron: 4mg
Nutritional information is provided as a reference, using an online calculator. We recommend verifying the information independently for accuracy.